Personalised vitamins
---
Get your bespoke combination of 4 daily supplements in just a few minutes.
How it works
---
1. Complete your consultation
---
Answer questions from our experts on your diet and lifestyle to help us get a complete understanding of your wellbeing.
2. Review your recommendations
---
See which vitamins our expert nutritionists recommend alongside personalised dietary advice to help you live life better.
3. Order your personalised plan
---
Your personalised daily vitamin strips will be delivered every 28 days in letterbox-friendly packaging, to ensure you never run out. Pause or cancel anytime.
Why choose Vitl?
---
Designed for you, based on your body's needs and your personal health goals.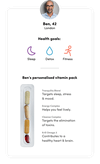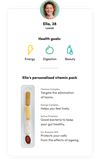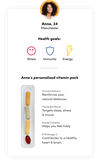 Quality ingredients
---
We use the most well-researched and bioavailable form of each nutrient to ensure you're really absorbing all that goodness. And if you're vegan or vegetarian, we'll make sure that your vitamins are too.

Expert approval
---
With specialists from various, distinct areas of wellbeing, our medical advisory board ensures all recommendations and formulations reflect the latest scientific studies and highest GMP manufacturing standards.
Christina Mamada

Nutrition Associate

MSc Nutrition, BSc Biology

Dr Monika Mozere

Geneticist

PhD, Genetics & Bioinformatics, UCL

Dr Monal Wadhera

Medical Director

BSc MBBS MRCP MRCGP

Roxane Bakker

Dietitian

BSc Nutrition & Dietetics

Feel your best more often
---
Get your very own personalised pack of high-quality supplements today.
Take Health Quiz