DNA Nutrition Test
---
Reveal your body's diet, exercise & lifestyle preferences according to your DNA. Get access to 40+ in-depth reports and have a 1:1 call with a qualified nutritionist to get personalised advice.
Discover
---
See how your DNA affects each area of your health to help you make the best choices for your body.






What you'll get
---
You'll get a full break down of each genetic trait with specific dietary, fitness and lifestyle advice so you can make the most of what nature gave you.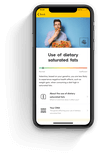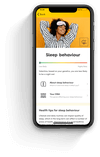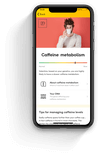 Expert advice
---
To help you reach your health goals, each report comes with personalised recommendations from our team of in-house nutrition experts as well as a consultation call to discuss any further questions you may have. Our aim is to help you to make smarter and more informed choices when it comes to your diet and lifestyle.
Christina Mamada

Head Nutritionist

MSc Nutrition, BSc Biology

Dr Monika Mozere

Geneticist

PhD, Genetics & Bioinformatics, UCL
How it works
---
1. Order your DNA Nutrition Test
---
Your kit will be sent in letterbox-friendly packaging and will typically arrive within 3-5 days.
2. Take your saliva sample
---
Use the swab to take a saliva sample from inside your cheek then send it back in the prepaid post bag.
3. Results in just 2-3 weeks
---
You'll get reports on 40+ genes alongside personalised dietary & lifestyle recommendations from a qualified nutritionist.
For more information, check the instructions booklet here.
Don't just take our word for it
"Easy to collect and send off the sample with clear instructions on how to do it. The thorough and detailed results were hugely helpful. Really useful and insightful way to shape your nutrition and health tailored specifically to you."
Zayna A.
"The Vitl DNA test kit brought my attention to other aspects of my health and fitness I'd never even considered and has helped to take control of different variables within my life for better results."
Joe F.
"I think it's super. You get sent a little package, you swab your cheek and send it back, it's that simple. You find out how likely you are to be low in vitamins, I think this is just so useful to know. Really thorough and so useful."
Lizzie K.
Data security
---
We are committed to ensuring you have absolute control over your personal information, which is why we adhere to the highest security standards and use the latest encryption technology so you never have to worry about your data.
Check our Data Privacy Policy for more details.
Still have questions?
---
These are things people frequently ask about the DNA Nutrition Test.
If you don't see your question then please get in touch here.
How long do I have to wait for my results?

You can expect to receive your DNA results within 4 weeks of sending your sample back for analysis. We will send you an email when the lab receives your sample and another when your results are ready. It can take up to 2 weeks for the sample to arrive at the lab and once received, the lab usually processes the results within 2 weeks.

Can I use my DNA results to personalise my vitamins?

Yes! Your DNA results will highlight which vitamins you're likely to have trouble absorbing efficiently. This will indicate which nutrients you may need to supplement with. Then, to get a clear picture of your current health status, you'll be asked a few questions about your diet and lifestyle. We'll then combine this information with your DNA results to personalise vitamins based on your nutritional needs and health goals.

Why choose Vitl?

Personalised health plan: As industry-leading experts in the field of personalised nutrition, we know that your results are only useful if you understand what you can do with them. So not only will you get a breakdown of your genetic traits, you'll also get personalised recommendations and actionable insights based on your results from our qualified in-house experts.

Integrated solution: We're the first company in the world to enable the integration of your DNA results alongside blood test results and dietary and lifestyle information. Supplement recommendations cannot be made on DNA information alone, but taken alongside your current blood vitamin levels and diet, we're able to tailor-make vitamins based on your needs to ensure you're getting only what your body really needs.

Reliable results: The genetic traits we cover in your report go through a rigorous selection process to ensure they're based on the most credible science. Whilst other brands may test for a larger number of less well-researched traits, we believe in quality over quantity, which is why only cover traits based on the strongest, peer-reviewed evidence to ensure you're getting the most reliable results.

How will understanding my DNA help me to live life better?

99.9% of your DNA is the same as everyone else's, it's the 0.1% that differs from person to person that makes you unique! DNA is not only responsible for aspects such as eye and hair colour, but also how we're likely to respond to certain types of dietary, exercise and lifestyle choices. By understanding your specific predispositions to ways of eating and exercising, you can make smarter choices, maximise your potential, and reach your goals more efficiently.

How often should I take the test?

Your DNA never changes, which means one test will last an entire lifetime.

What won't be covered in my DNA report?

Ancestry: Whilst we won't be connecting you with any long-lost relatives, it does mean we won't connect your results to any third parties, so your data will be kept as secure and private as possible.

Disease risk: There will be no scary surprises in your DNA health report. Instead, we'll focus on the genetic traits directly related to daily wellbeing to enable you to make the healthiest choices day-to-day, which we believe will have the greatest benefit to you in the long term.

Current blood vitamin levels: Your DNA report will show if you have a predisposition to being unable to absorb certain vitamins efficiently. This can indicate which vitamin levels are likely to be low, however, vitamin levels are affected by many factors, such as diet, sunlight exposure and level of physical activity. To find out your current vitamin level status, see our Vitamin & Cholesterol Blood Test here.

Live life better with insights
that will last a lifetime