One personalised pill covering all the essentials
---
Get your personalised daily multivitamin
tailor-made for you in just 5 minutes.
Made for you
---
Designed for you,
based on your body's needs
and your personal health goals





How it works
---
Got 5 minutes?
---
Tell us about your diet and lifestyle
Understand your body
---
Find out which vitamins and nutrients are best for you
Start today
---
Your Essential One, delivered to you (cancel anytime, no obligations)
Only the best ingredients
---
Your personalised vitamins give you
exactly what your body needs.
Nothing else.
Free from
Harmful bulking agents
Anti-caking agents
Artificial colours and preservatives
Sugar and gluten
Why Vitl?
"I noticed a huge difference... the quality is excellent. Packaging is good, support and advice is all there. Fairly priced and very responsive team. Treat someone or yourself!"
Rebecca E
"Great customer service, and fantastic products. I have already started feeling better!"
Simon F
"I started to feel and look better after the first week of taking them. Thank you so much. I have now signed on to the monthly plan and hope to continue feeling great!"
Nicola B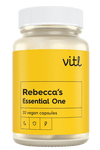 Feel your personal best more often
---
Get your tailor-made daily vitamins
and start giving your body what it really needs
Take consultation