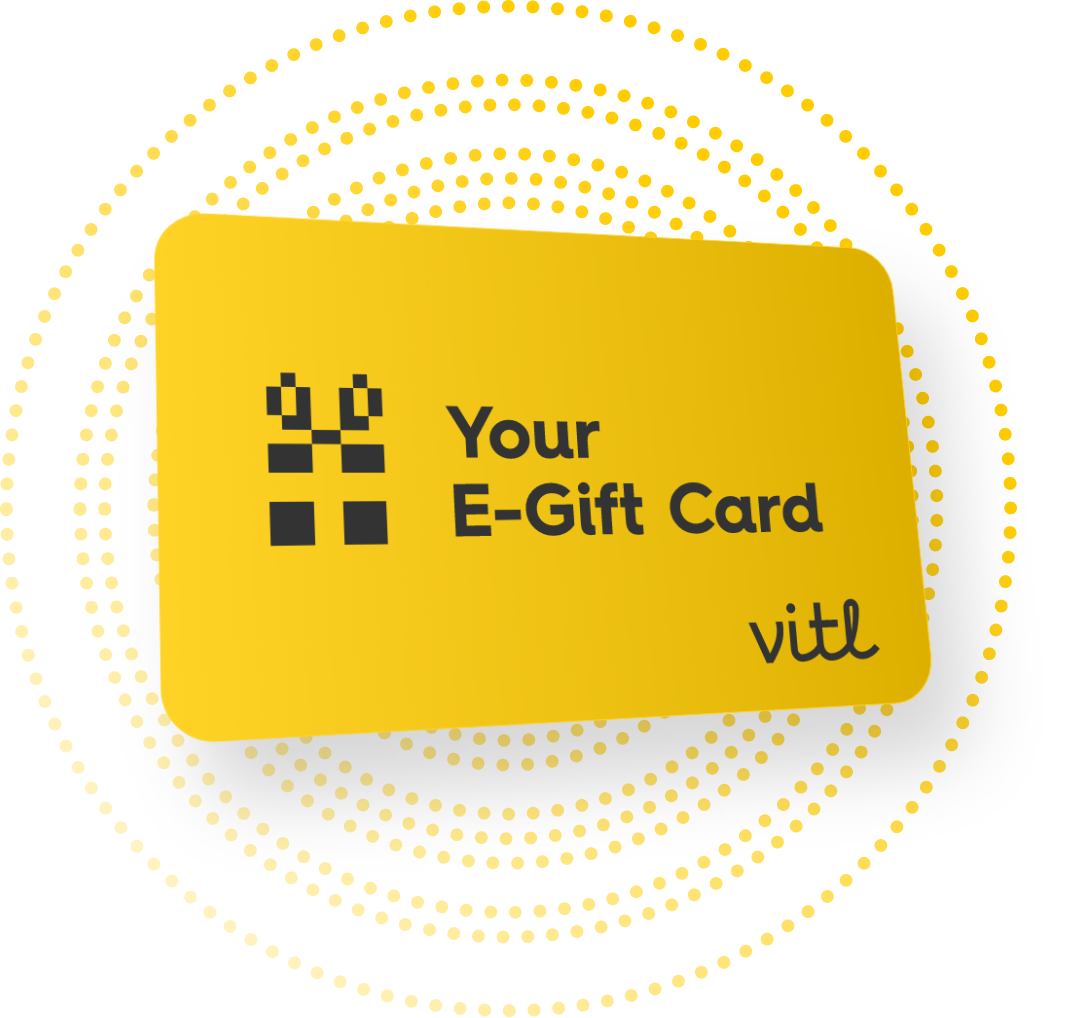 Vitl's Digital Gift Card
---
The gift card that's good for them. From a personalised vitamin subscription, to our cutting-edge Nutrition DNA tests, let your loved ones choose how they want to boost their wellbeing.
How much would you like to gift?
---
What happens next?
We'll send your digital gift card directly to your inbox. Either print it at home or forward it straight on to your lucky loved one.
Still have questions?
---
How do I redeem my gift card?

This is a digital gift card. Following your purchase, you will receive your digital gift card, including a unique gift card code, via email. To pass it on as a gift, you can either print the email at home or forward it directly to the recipient. The email will include instructions on how the recipient can redeem the gift card. All they need to do is enter their unique gift card code at the checkout, in the same way you would use a regular coupon code.

Please note: Your unique gift card code can only be used once. If the recipient would like to purchase a subscription for a Vitl product (as opposed to making a one-off purchase) all they need to do is register their account and email their unique gift card code to giftcards@vitl.com. Their gift card will then be added to their account as credit. If the recipient has any other requests, or if they don't wish to use all their gift card credit at one time, they can email giftcards@vitl.com and our team will be ready to help.

What can I spend my gift card on?

Your gift card can be spent on any products available at vitl.com or vitl-cbd.com. To complete your purchase, simply enter your unique gift card code at the check out. If you are purchasing a Vitl subscription, please email giftcards@vitl.com with your unique gift card code and a member of our team will add credit for the value of your gift card to your account.

When do I need to redeem my gift card?

You must redeem your gift card within 12 months of purchase.

What are the terms and conditions?

Gift cards available for UK customers only. Gift cards can only be redeemed online at vitl.com or vitl-cbd.com and cannot be exchanged for cash. Your gift card code is unique to you and can only be used once. Gift cards cannot be used in conjunction with a discount code. Gifts cards must be redeemed within 12 months. If you have any questions, would like to convert your gift card into credit so you can spend it on a subscription, or have any other purchase requests, please email us on giftcards@vitl.com
If you don't see your question then please get in touch here.