Packed with protein, collagen peptides and B vitamins
Goodness on the go
---
Ready to give your skin, hair and nails the nourishment they deserve? Look and feel your all-time best with this delectable, radiance-boosting treat. Packed full of classic beauty superheroes, our Glow bar is the easiest & most indulgent way to increase your protein intake and get that extra vitamin hit.
It's chocolate, it's raspberry, it's delicious, it will make you glow and guess what? It's healthy!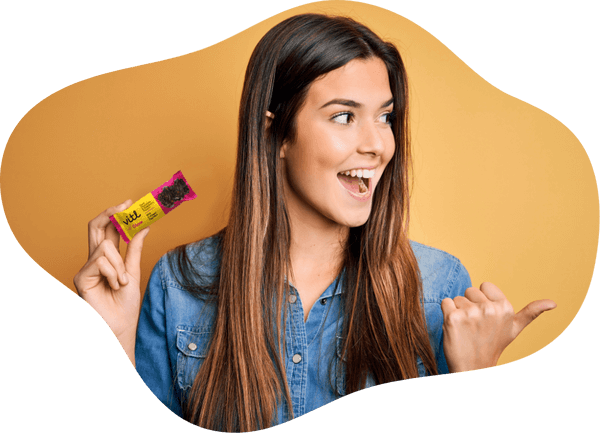 What's inside?
---
Chock full with good stuff, this is so much more than just a really tasty snack. Our Glow bar is packed with essential vitamins and minerals, like hydrolysed collagen, an important protein for skin elasticity, as well as biotin to maintain healthy hair, and much more. Glow from the inside out with a delicious dose of chocolate-y goodness.
Light and crunchy
A soy crispy topping coated in silky dark chocolate

Creamy and gooey
An indulgent, velvety raspberry flavoured centre

Melt in the mouth
All on a delightfully zesty raspberry dough base

The full experience
A decadent, fruity treat, enrobed in chocolate and sprinkled with a crispy topping
| | Per 100g | Per bar(40g) |
| --- | --- | --- |
| Energy kj | 1506 | 602 |
| Energy kcal | 360 | 144 |
| Fat | 14 | 5.6 |
| Saturated fat | 6.9 | 2.8 |
| Carbohydrates | 29 | 12 |
| Sugars | 1 | <0.5 |
| Polyols | 25 | 10 |
| Fibre | 7 | 2.8 |
| Protein | 36 | 15 |
| Salt | 0.17 | 0.07 |
| | Per serving 40g | NRV(%) |
| --- | --- | --- |
| Vitamin E | 17mg | 142% |
| Biotin | 67μg | 134% |
| Zinc | 14mg | 140% |
| Selenium | 75μg | 136% |
| Iodine | 203μg | 135% |
Milk proteins, chocolate with sweetener (22%) (cocoa mass, sweetener (maltitol), cocoa butter, emulsifier (lecithins), natural vanilla flavouring), humectant (glycerol), collagen hydrolysate (10%), bulking agent (polydextrose), white chocolate with sweetener (sweetener (maltitol), cocoa butter, whole milk powder, emulsifier (lecithins), natural vanilla flavouring), water, milk protein crisps (milk proteins, potato starch, cocoa (cocoa, acidity regulators (sodium hydroxide, potassium carbonate))), sunflower oil, milled flaxseed, raspberry powder (raspberry puree concentrate (0.34%), maltodextrin) 0,7%, natural flavouring, vitamin and mineral mix (vitamin E, zinc, iodine, selenium, biotin) acidity regulator (citric acid), concentrate (carrot, black currant), sweetener (sucralose), caffeine.

Allergens: Please see ingredients listed in bold. May contain cereals containing gluten, soybeans, peanuts and nuts. Not suitable for vegetarians. Note: excessive consumption may produce laxative effects. Contains caffeine. Not recommended for children or pregnant women (4mg/100g).
Find your flavour
---

Energy bar
Salted Caramel flavour
Back in stock soon
Shop Energy

Focus bar
Chocolate Brownie flavour
Back in stock soon
Shop Focus
Still have questions?
---
What dietary restrictions are there? Do they have any allergens?

Unfortunately our bars aren't vegetarian or dairy free as they contain collagen peptides sourced from bovine (a type of collagen that comes from cows) which is a highly absorbable form of this vital skin nutrient. They also contain milk for that delicious chocolate flavour. Our bars do not have any gluten or nut-containing ingredients, however they have been manufactured in a facility that handles gluten, nuts and peanuts. Therefore, we can't guarantee that they are gluten or nut-free.

How many bars should I consume a day?

We recommend taking one bar a day as some of the vitamins and mineral levels are significant. However, this will also depend on whether you are taking any other supplements. If you are taking daily supplements containing iron or zinc please drop us a message at hello@vitl.com so our in-house nutritionists can check your ideal serving size!

There are so many bars out there, why Vitl?

Our bars are unique in flavour and formulation. They contain specific vitamins and minerals that have associated health benefits. It's just like taking your usual vitamins, but in a wonderfully delicious snack! Unlike other bars, they are also very very low in sugar and low in calories, so they easily fit into your daily nutrition.

Are these suitable for children (under 12 years) and pregnant women?

Our bars contain caffeine so they are not recommended for children or pregnant women.
If you don't see your question then please get in touch here.
Join the community at @vitlhealth