Omega 3
---
30 Krill Oil Omega 3 Softgels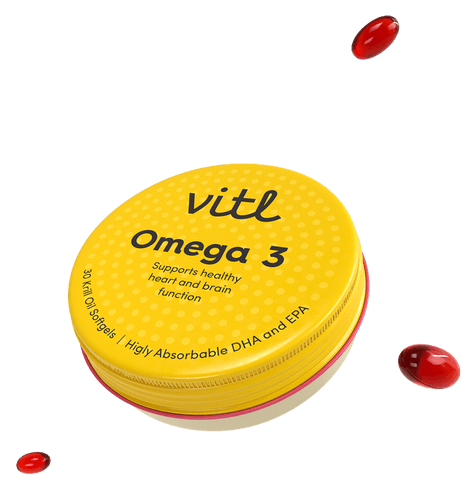 Pure, sustainably-harvested omega 3
---
Highly-absorbable krill oil in easy-to-swallow capsules providing the most bioavailable form of omega 3 essential fatty acids, EPA and DHA, which support normal heart and brain function.
What's inside?
---
30 Krill Oil Omega 3 Softgels providing a superior source of essential fatty acids DHA and EPA, which support normal heart and brain function, blood pressure, vision and liver function.

Krill Omega 3
---
Contributes to a healthy heart & brain
Highly-absorbable and sustainably-sourced Antarctic krill oil providing essential omega 3 and astaxanthin.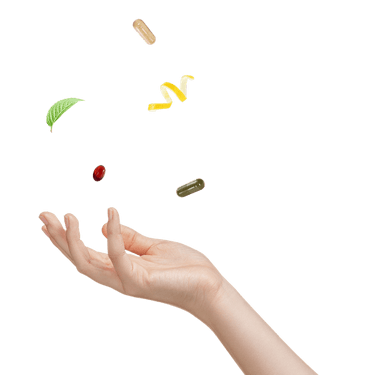 Why choose Vitl?
---
Thanks to the natural astaxanthin contained in krill oil, the omega 3 fatty acids are kept stable without the need of additives. Krill oil is also naturally pollutant free.
Highly absorbable

The utilization of essential fatty acids EPA (Eicosapentaenoic Acid) and DHA (Docosahexaenoic Acid) from krill oil is 121% higher compared to other fish oils, which is why the EPA and DHA levels do not need to be as high. Krill oil has been clinically demonstrated to significantly improve the omega 3 levels in your body in just 30 days.

Sustainably harvested

MSC certified (MSC ecolabel) Naturally non-GMO Unique, patented technology to reduce the wastage incurred by traditional methods and successfully prevents by-catch of birds, marine mammals and fish "A" rating in the Sustainable Fisheries Partnership (SFP) 2016 annual review

Directions

Take one to two softgels daily with or after your main meal. Swallow with water. Do not chew.
Nutritional information
---
Krill Omega 3

Highly-absorbable and sustainably-sourced Antarctic krill oil providing essential omega 3 and astaxanthin.

| | | |
| --- | --- | --- |
|   | Per Softgel | % NRV |
| Total Marine Phospholipids | 200 mg | † |
| Total Omega 3 Fatty Acids | 110 mg | † |
| EPA | 60 mg | † |
| DHA | 28 mg | † |
| Astaxanthin | 50 µg | † |

† NRV not established

Krill Oil (500mg) (Superba™ 2) (from Crustaceans), Softgel Capsule (Gelatin, Glycerol, Sorbitol, Purified Water)