Vegan Omega 3
---
Skip the middleman & support your body's heart and brain health with vegan omega 3 algae oil, straight from the source.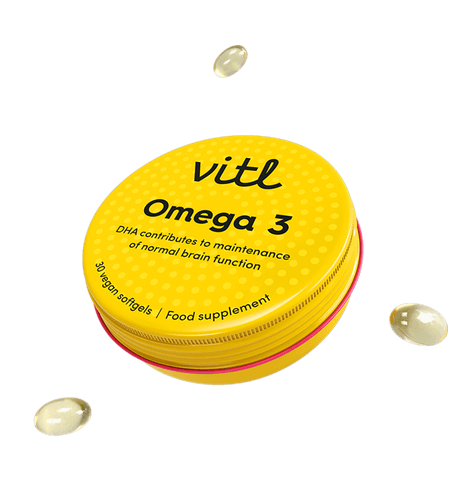 All the goodness of Omega 3, now vegan friendly
---
Omega 3 is an essential fatty acid that must be obtained via our diet. As fish is the most common source, research has shown vegans & vegetarians are prone to less Omega 3 in their body. Supplementing with highly absorbable vegan omega 3 provides an easy solution for essential fatty acids, EPA & DHA, crucial in supporting heart & brain function.
What's inside?
---
30 Vegan Omega 3 Softgels providing a superior source of essential fatty acids DHA and EPA, which support normal heart and brain function, blood pressure, vision and liver function.
Vegan Omega 3
---
Contributes to a healthy heart & brain
Highly-absorbable vegan omega 3 fatty acids EPA and DHA from algal oil with vitamin E and rosemary extract.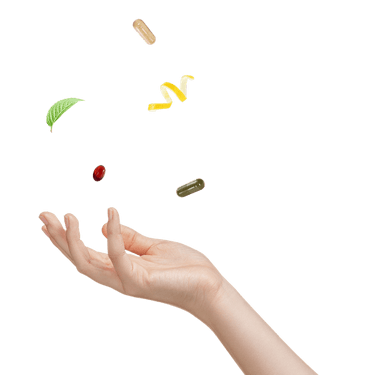 Why choose Vitl?
---
Thanks to the natural astaxanthin contained in krill oil, the omega 3 fatty acids are kept stable without the need of additives. Krill oil is also naturally pollutant free.
Highly absorbable

The utilization of essential fatty acids EPA (Eicosapentaenoic Acid) and DHA (Docosahexaenoic Acid) from krill oil is 121% higher compared to other fish oils, which is why the EPA and DHA levels do not need to be as high. Krill oil has been clinically demonstrated to significantly improve the omega 3 levels in your body in just 30 days.

Sustainably harvested

MSC certified (MSC ecolabel) Naturally non-GMO Unique, patented technology to reduce the wastage incurred by traditional methods and successfully prevents by-catch of birds, marine mammals and fish "A" rating in the Sustainable Fisheries Partnership (SFP) 2016 annual review

Directions

Take one to two softgels daily with or after your main meal. Swallow with water. Do not chew.
Nutritional information
---
Vegan Omega 3

Highly-absorbable vegan omega 3 fatty acids EPA and DHA from algal oil with vitamin E and rosemary extract.

| | | |
| --- | --- | --- |
|   | Per Softgel | % NRV |
| Total Omega 3 Fatty Acids | 356 mg | † |
| DHA | 198 mg | † |
| EPA | 124 mg | † |
| DPA | 34 mg | † |
| Algal Oil | 625 mg | † |

† NRV not established

Marine Algal Oil (619mg), High Oleic Healianthus Annuus Oil, Rosemary Extract, Natural Mixed Tocopherols (Vitamin E), Ascorbyl Palmitate, Softgel Capsule (Vegetable Glycerol, non-GMO Corn Starch, Natural Undegraded Carrageenan, Sodium Carbonate from Kelp)